Hospital
Management
System
Mazecare provides the complete integrated solution for hospitals
Build your own modular
hospital management software
Pick, choose, modify and customize your hospital management system to fit your brand needs.
The Core
The dashboard allows you to have a 360 view over the main information you need to manage your hospital.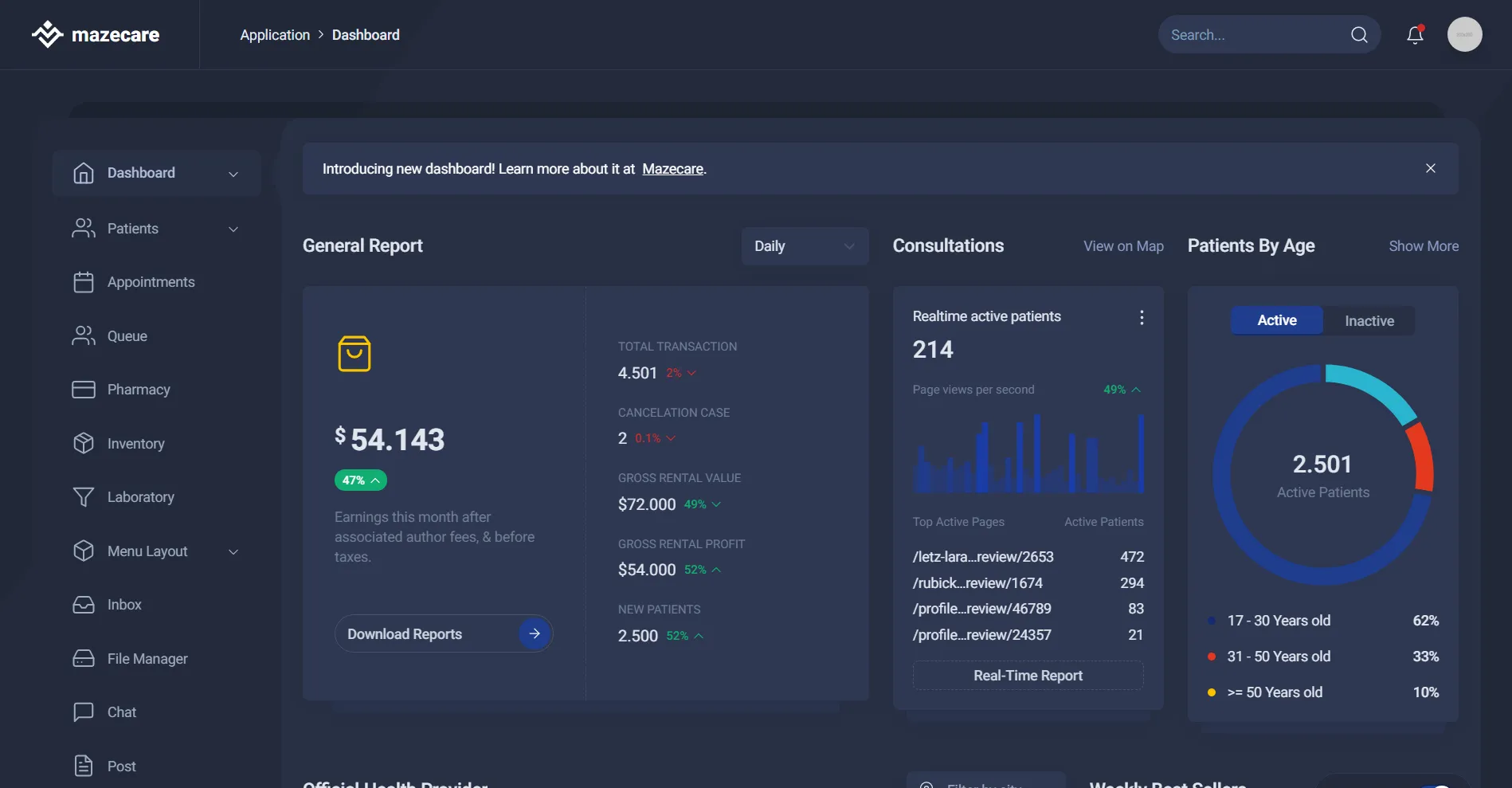 Core
Modules
How it all comes together with endless combinations and customizations
Electronic Medical Health & Patient Records

Manage patients by listing all their historic medical records and health records. You can also graph all relationships between patients and internal staff.
Admission Digitisation

Improve productivity for doctors and staff as we digitise, consolidate and process both hospitals admissions and/or pre-authorisation forms in a single interface.
Telemedicine

Telemedicine is to be reflected by tele-consultation and e-prescription, powered by video calls, voice messages, and chat options.
Patient Channel Management

Capture valuable patient insight and track any metric you need – from source channel performance, demographic profiles, disease trends to top doctors/specialties requested.
Medical Notes

Create medical notes for each of your patients. You can collapse note, pin note, or add images and diagnosis based on ICD code. Manage notes inside your customized folders.
Appointment Management System

Manage appointments by scheduling staff with drag & drop calendars. You can also filter the appointment view by doctor, patient, room, or equipment.
Template Management

Tired to write the same thing all over again? We provide you template management for medical notes, appointments, and also notification by SMS or emails.
Queue & Flow Optimisation System

Minimise patient waiting time & improve capacity utilisation. You can manage patient pathways and queue patients to service stations through our dynamic solution, resulting in shorter patient waiting times and enhanced patient satisfaction. You could filter the queue list by line or provider.
Visit Management

You can add medication dispense related to each visit in the visit page. When you finished, you could link the dispense into an invoice, charged to patients or insurers.
File Systems and Document Management

With our advanced document management system, you can store and access any file format with any user.
DICOM Imaging System

Digital Imaging and Communications in Medicine System help with your management of medical imaging and related data.
Pharmacy & Inventory Management

Manage inventory with complete visibility of existing inventory levels without worrying about supply levels. Whether your needs are ambulatory pharmacy or retail pharmacy, you can customize the inventory management system depending on your scalability and can grow with operations as your service transforms.
Laboratory Testing Management

Manage laboratory test requests request and test results.
Invoice & Payments

With the full integration of the billing system into our platforms, you can readily manage invoices and payments of patients and staff. You can also make a payment for multiple invoices.
Branch Management

Manage and operate multiple branches, locations and departments.
Doctor List

Add doctors to your branch, manage doctor details including specialization and schedule.
Equipment Management

You can manage equipments that are available in each branch and also edit the details.
Corporate & Insurances

You can manage corporates or insurers that partner with your hospital.
Security

Our systems ensure that you adhere to cybersecurity best practices, including data security.
APIs (FHIR and more )

Every feature and module is powered by APIs and uses intercommunication standards such as FHIR.
Mazecare is the best place
to put your trust in.
One Platform. Multiple Devices. Custom Design.